Playschool VS Private Training
Where?
Playschool - Playschool is only done at our facility when your dog comes to daycare.
Private Training - Private training can be done at our facility, at a park in your neighbourhood, and depending on what training is needed sometimes we can work in your home.
When?
Playschool - Playschool can be done during the day while your dog is with us at daycare (Fridays/Mondays Only)
Private Training - We have a few different times available for private training, once you have access to online booking you can choose which time during the evening or weekend works best for you.
How?
Playschool -Bring your dog to daycare on a Friday or Monday morning, during the day our trainer will take your dog out of playgroup for an hour and work on the behaviours you requested.
Private Training - We meet at our facility or your place of choice, working together to teach your dog the skills we discussed in your consultation.
Why?
Playschool - Most people choose playschool solely because the training can be done while your dog is at daycare with us, instead of being present for the session.
Private Training - Most people choose private training so they can be present for the session and work on more intense behaviours with the trainer. Our trainer might require you do private training based on the skills your dog is working on.
Choosing either playschool or private training is completely up to you, that is why we have made this sheet so you can decide which suits your lifestyle best.
Playschool comes with basic short summaries only sent out as updates as needed.
Private training comes with in depth training plan and summaries after each session.
---
Private Training
We offer private training sessions, in your home, or at our location, or even at a location we meet at!
We have experience with a range of behaviours including fear and reactivity and are currently working towards the CBCC-KSA certification. We can use the private sessions for really any behaviour you need a hand with working on with Fido, such as; potty training, leash walking, recall, chewing, counter surfing, leash reactivity, fearful behaviour and confidence building, handling, polite greeting, jumping and more!
How to get started?
Give us a call or send an email letting us know your interested in training.
We will send you a training inquiry email, fill out all the questions and send it back
Then we will schedule a virtual consultation, before we can book it, you must put down a $100 non-refundable deposit that will come off the price of your package if you haven't already purchased one.
Once the consultation is complete we will send you a training plan with a coupon code to take your deposit off the purchase of your training package through our website.
Then you will receive the link to book your private training sessions online. I encourage you to book all the sessions purchased doing one a week.
All training packages expire 1 year from the purchase date
---
ALL CLASSES ARE POSPONED UNTIL FUTHER NOTICE
Group Training Classes
Puppy Socialization Class
This is a socialization class with a slight touch on obedience, we cover topics such as handling, dog-dog play, surface and sound socialization and more!
This is a drop off style of puppy class since our facility isn't big enough for everyone to properly social distance while in the classroom. This means you will be given a specific time to drop off your puppy (between 5:00-5:30 pm, each puppy will have a different time to arrive to avoid crowding) the class is one hour long, spending the entire time with our certified trainer.
This class is suitable for dogs who are 12 weeks or over with their first 2 sets of vaccinations up to 20 weeks old!
$100 +GST Book your spot in class


Level 1 & 2 Obedience Classes
Postponed until further notice - due to COVID19.
---
Train 2 Groom Program
What is Train 2 Groom?
Train to groom is a training package that is catered to grooming, it is a little different for each dog because each dog is so unique in their needs, for example, if your dog is more nervous of the dryer then the clippers we will spend more time building a positive association to the dryer. Our goal is to help Fido learn that grooming doesn't need to be scary and to help them get used to a regular schedule. When your dog is with us we will pair treats with grooming tools and the process of grooming to build a good association to grooming as a whole.
How long does it take?
Your dog will come to Brilliant Best Friends ONE day a week for five weeks straight, coming in the morning and leaving in the late afternoon. On the fifth week your dog will be fully groomed (Bath & Tidy or Shave) which is included in the price of this package. Every groom for the rest of your dog's life, you will receive 10% off the regular grooming price.
---
Train to groom for puppies
During those days we will introduce your puppy to many different grooming tools that might normally frighten a puppy while pairing them with super high-value treats and building positive associations so that future grooms for your puppy won't seem so scary.
Train to groom for adult dogs
It is a little bit different for adult dogs who don't enjoy grooming. We will first build a positive association with us and being here at BBF so the first day is just a fun hangout day while they learn that being here equals good things. The next 4 days while they are with us we will work on what they really don't enjoy (having nails done, being blow dried) and pair it will super yummy treats. We will be going at your dog's pace and listen to them when they are saying its too much.
Small Breed (under 50lbs) $400
Large Breed (over 50lbs) $500
Package Includes
5 Socialization days in daycare

5 Sessions with our certified trainer

1 Full groom

10% OFF all grooms for the life of your dog
Size is based your dogs adult size (estimated size for puppies)
During the duration of this training it is very important that you do not practice any grooming or parts of grooming with your dog. We have a very precise schedule with importance on the way each grooming situation is set up to give your dog the most success.
If you decide to take your dog to another groomer or try a "home haircut" the 10% off discount is voided. This program is to build a good association to grooming and if you are using another groomer or trying to cut hair at home we cannot guarantee that the same low stress methods are being used.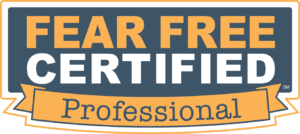 Credits are not transferable
Non-refundable